What's new in FastKeys 5
We have been working hard to bring many new features into FastKeys.
Enhanced and modernized Gui,
Added Toolbars - always on top start menus with customizable settings,
Added Open webpage macro,
Added Run program macro,
Added Open file macro,
Added Open folder macro,
Added Create mail macro (Professional Edition),
Added Activate window macro,
Added Selection Table macro (Professional Edition),
Added Excel lookup macro (Professional Edition),
Added Text file lookup macro (Professional Edition),
Added Excel Data range macro (Professional Edition),
Added Calculation macro (Professional Edition),
Enhanced Manual Text Input options (Default, Input format),
Added No output option to several macros,
Added Output format options to several macros,
Enhanced font dialogs with Unlimited color selections,
Enhanced resizable Quick find window,
Simplified Run type - now covers Run, Open and Script type commands,
Added Gui color themes,
Added Customizable Gui icon bar,
Added Display number of items in module,
Added Option to include spaces in Auto Complete search,
Added Option for defining Selection form popup width,
Added Auto import from previous FastKeys versions,
Updated documentation,
Updated translations,
Abundance of other improvements and bug fixes.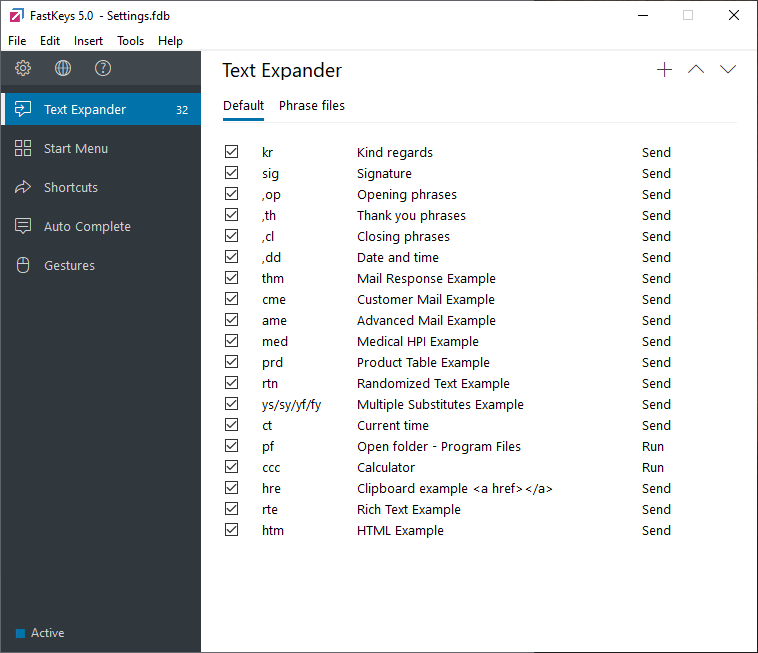 Click to see screenshots
Upgrade with 20% Discount
FastKeys 5 is a separate release and is installed separately from the old version. This is not a free upgrade, however, we offer a
20% upgrade discount
to our registered users of Personal and Professional editions. It is a
limited time offer.
To make an upgrade
- select your edition and click a blue
BUY NOW
button on our
ORDER PAGE
- click
"Redeem Coupon Code"
on a purchase page and then
- enter your current valid
registration key
.
If you wish to upgrade from v4 Standard to v5 Professional Edition with 10% discount, add "X" to the end of your valid registration key.